BURU
The earliest report of a Buru was described from a single sentence in an article by an anthropologist named Professor von Furer-Haimendorf. During his visit to the Himalayas, he heard from the native people known as Apatanis about a lizard-like creature that used to live in the marsh at the bottom of the valley. Later a man named Charles Stonor visited the valley and also heard about the creatures from locals. They told him their ancestors had trapped the Buru in five deep pools in the bottom of the lake and that the creatures were stoned to death and the pools filled in. By the time Stonor had arrived the creatures were long extinct, so not much is known about it, though is is possible that the creatures were similar to Komodo Dragons.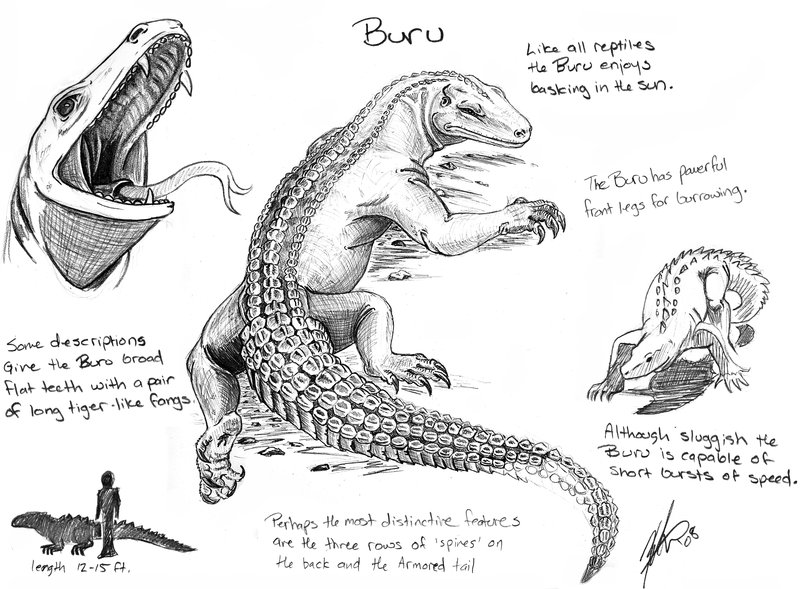 WENDIGO
Wendigos are fearsome half-beast creatures said to be physically transformed from a person. The Algonquian in the Great Lakes Region of both the United States and Canada believed thatthose who indulged in eating human flesh were most at risk for becoming a Wendigo. It is described in Alonquian mythology as a balance of nature. Wendigo psychosis is a culture bound syndrome that features symptoms such as an intense craving for human flesh and a fear the sufferer is a cannibal. The condition was alleged to have occurred among the natives but remains disputed. Wendigos are described as malevolent, cannibalistic, and supernatural beings of great power. They prefer winter and cold weather. They are gaunt, hony, and desiccated in appearance. Their complexion is ashy gray and its eyes are pushed back deep into the sockets. It appears like a gaunt skeleton recently interred to the grave and smells of decay and death. Their lips are tattered and bloody.
Another unfair battle, but this was all at random. The buru may already be extinct, but if it weren't, I'm sure the Wendigo would pick it clean. Do you agree? Vote now before the poll ends in one week.
https://docs.google.com/forms/d/1MtMfQQ ... c/viewform